Gala Performance & After Party
An Inspiring Evening of Dance
Saturday, May 6, 2023, 7:30 PM
The John F. Kennedy Center for the Performing Arts Terrace Theater
Annie Simonian Totah, Gala Chair
After party hosted at the residence of Kay Kendall and Jack Davies
Support the vision of creating the new dance world and join us for a benefit performance celebrating the extraordinary caliber of talent and artistry of CityDance Conservatory. The performance will feature acclaimed professional artists as well as award winning young dancers of the CityDance Conservatory. Funds raised will support more than $150,000 in merit scholarship and financial aid awarded annually to the nation's most promising young dance artists, connecting talent to opportunity.
Meet the Artists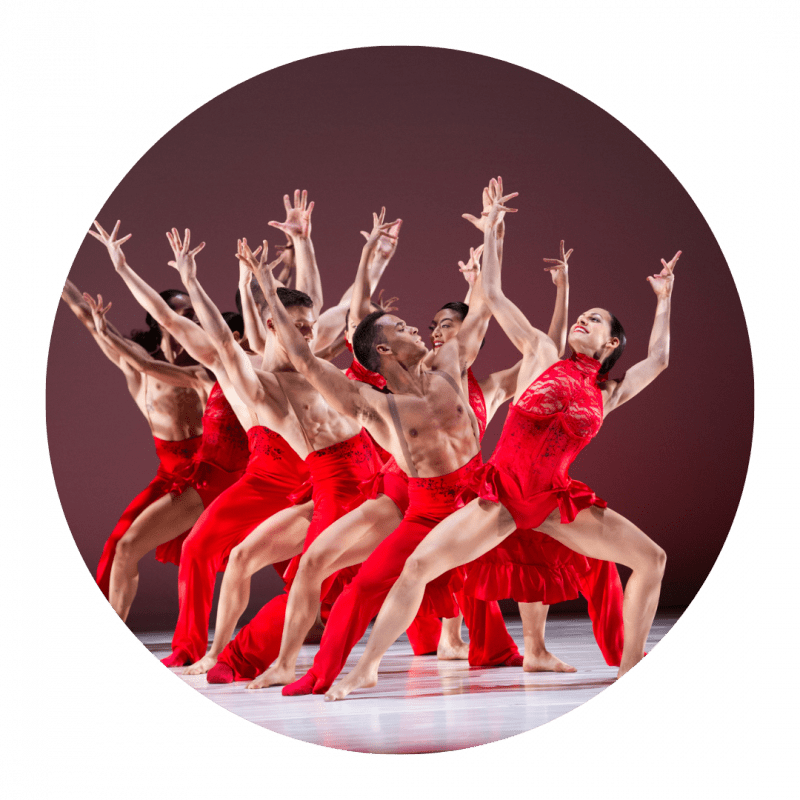 Ballet Hispánico
Ballet Hispánico is the largest Latine/Latinx/Hispanic cultural organization in the United States and one of America's Cultural Treasures. Ballet Hispánico's three main programs, the Company, School of Dance, and Community Arts Partnerships, bring communities together to celebrate the multifaceted Latinx diasporas. Ballet Hispánico's New York City headquarters provide the physical home and cultural heart for Latine dance in the United States. It is a space that initiates new cultural conversations and explores the intersectionality of Latine cultures. No matter their background or identity – Latine, Latinx, Hispanic – Ballet Hispánico welcomes and serves all, breaking stereotypes and celebrating the beauty and diversity of Hispanic cultures through dance.
---
Baye & Asa
Baye & Asa is a company creating movement art projects directed & choreographed by Amadi 'Baye' Washington & Sam 'Asa' Pratt. We grew up together in New York City, and that shared educational history is the mother of our work. Hip Hop & African dance languages are the foundation of our technique. The rhythms of these techniques inform the way we energetically confront contemporary dance & theater. We've presented our live work at The Joyce Theater, The Metropolitan Museum of Art, Pioneer Works, The 92nd Street Y, Baryshnikov Arts Center, Jacob's Pillow, DanceHouse Vancouver, Blacklight Summit, Battery Dance Festival, and were selected as one of Dance Magazine's "25 to Watch" for 2022. Our film work has won numerous awards and has been presented internationally. In the coming year, we'll be creating new commissions for the Metropolitan Museum of Art, Baryshnikov Arts Center, and the Martha Graham Dance Company.
---
Adjetey Klufio
Adjetey Klufio credits his early training to the National Dance Company of Ghana, where he trained for over ten years. In five of those years, he was named the company's principal dancer and soloist. He is now the artistic director of the Anne Arundel Community College Dance Company. His performing credits with the National Dance Company include the opportunity to perform for three United States presidents, including Bill Clinton, George W. Bush, and Barack Obama. In 2012, Klufio performed with Dance Africa at the BAM Theatre in New York City, where the New York Times described his performance as "spectacular and subtle." In 2018, The Baltimore Sun described his performance at Afrotempo's Afrodance Revolution for two years, where he had the opportunity to present various works. He has also worked with CityDance DREAM, where he was commissioned to choreograph for the conservatory at the annual gala at the Lincoln Theatre in 2017 and 2018. He founded the AfroNdani Dance Company in 2014, which has become sought after with its original style of Afrobeat and traditional dance styles.
Thank You Sponsors
Visionary Sponsors
Susan Burt & Dr. Robert Woolfitt
Kay Kendall & Jack Davies
Annie Simonian Totah
Trailblazer Sponsors
Lisa Barry
Kristin Ehrgood & Vadim Nikitine
Frank & Susan Mars
Mary Haft