Join us for a Cunningham Workshop in Celebration of National Dance Day!
The workshop will include a Masterclass, a film screening of August Pace: a film by Daniel Madoff and a panel discussion with former and current members of the Merce Cunningham Company.
When: Sunday September 17, 2023 1-4:30pm
Where: CityDance at Strathmore (Studio 405)
Schedule:
1:00-2:30pm Masterclass with Patricia Lent and Daniel Madoff, assisted by Chaery Moon 
2:45-3:45pm Film screening
3:50-4:30pm Panel Discussion and Q&A
Cost: $20 for the general public
Please purchase your ticket here by Thursday Sept 14th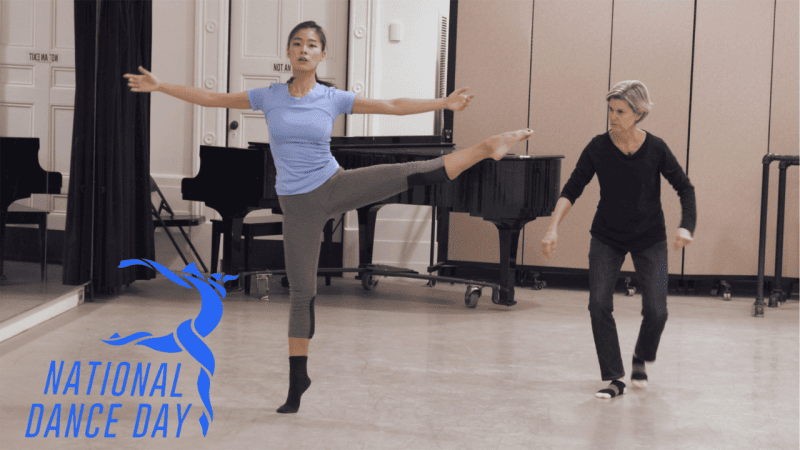 Biographies for the Cunningham Workshop
Patricia Lent grew up in McLean, Virginia and is a graduate of the University of Virginia (BA) and Bank Street College of Education (MSEd).  She danced for the Merce Cunningham Dance Company (1984-1993) and White Oak Dance Project (1994-1996), and taught elementary school at P.S. 234 in Lower Manhattan (1998-2007).  In 2009, Lent was named a trustee of the Merce Cunningham Trust, and currently serves as director of licensing.  Lent began teaching technique and repertory workshops at the Merce Cunningham Studio in the late 1980s.  In recent years, she has staged Cunningham's work for numerous companies, conservatories, schools, and museums worldwide.  She received a 2019 Bessie Award for her staging of Night of 100 Solos: A Centennial Event presented at the Brooklyn Academy of Music in celebration of the 100th anniversary of Cunningham's birth.
Daniel Madoff is a film director, cinematographer, editor, and producer. His work includes award winning films which have screened worldwide as well as commercials for national television. He has created content for BBC America, The New York Times, Anheuser Busch, Bacardi, Grey Goose, St-Germain, Dewar's, Michelob Ultra, Sterling Wine, BMW, Public Hotels, Breitling, People Magazine, Swarovski, Crocs, Footlocker, KPMG, Linked In, Philadelphia Museum of Art, Celebrity Series of Boston, Dance Theatre of Harlem, Trisha Brown Dance Company, BalletX, Princeton University, Johns Hopkins, SUNY Purchase, Hunter College, East Carolina University, All Arts/PBS, among others. He is currently directing a music video for internationally acclaimed musical artist, Rhiannon Giddens. Before entering the world of film, Daniel was a dancer with the Merce Cunningham Dance Company. He served as Director of Media for the Merce Cunningham Trust during Cunningham's centennial celebration.
Chaery Moon is a dancer and choreographer who originally hails from South Korea. She has danced classical ballet from an early age, attended the Korean National Ballet and Korea National Institute for the Gifted in Arts, and won the Tanzolymp in Berlin in 2007. She came to the U.S. to expand her dance language, and after earning her BFA from The Juilliard School, Moon went on to join the Ballet de l'Opera de Lyon. She performed numerous works, including pieces by Pina Bausch, Jiri Kylián, Merce Cunningham, William Forsythe, Twyla Tharp, Lucinda Childs, and Jérôme Bel. She returned to academia and the U.S. and holds an MFA from NYU's Tisch Dance. Armed with diverse experiences in the arts, Moon forges her choreographic path by bringing together physical movement and the complexities of what it is to be human in an interdisciplinary process. She founded her company, Chaery Moon Dance (CMD), in 2017 and has presented several dance works and films in New York, New Jersey, L.A., and South Korea. Moon is a grant recipient from NYFA and an artist in residency at Downtown Brooklyn and Leimay. Her collaboration work has been shown in Schön! Magazine, Vogue Hong Kong, and her writing has been published in Dance and People and Dance magazine in South Korea. (www.chaerymoon.com)
Naima Prevots has been performer, choreographer, teacher, historian, administrator, and in 2019 was awarded a LIfetime Achievement Award by the National Dance Education Organization. Early in her career, she performed with Merce Cunningham's group in 1952 as a student at Brandeis University, in 1955 with Marie Marchowsky at Henry Street Playhouse, , and later with Pola Nirenska's Company in Washington, D.C. Naima's choreography was commissioned by Princeton Ballet and the Jewish Community Centers in Maryland and Washington, and in the 1960s she co-founded Dimensions  Dance Company, performing and choreographing in many venues. 
She is Professor Emerita, American University, where from 1967 until retirement in 2023 she helped found the Department of Performing Arts, serving as Director of Dance and Chair of the Department. From 1971 to 1983 she created a summer program at the university, bringing in companies of Paul Taylor, Twyla Tharp, Murray Louis, Erick Hawkins, Don Redlich, and many others to teach for students and teachers who came from all over nationally and internationally, and to perform for large Washington audiences. 
As a critic and historian she has written numerous articles, reviews, monographs, and has published three books: Dancing in the Sun: Hollywood Choreographers 1915-1937; American Pageantry: A Movement for Art and Democracy; Dance for Export:  Cultural Diplomacy and the Cold War. She has served on the boards of many organizations including CORD; SDHS; NDEO; ADG; Fulbright Association, and has been a consultant for both the National Endowment for the Arts and for the Humanities, and the Arts and Humanities Councils of Washington and California. As an arts educator she was designated an Artist in the Schools, and was on the staff of PROJECT CAREL, one of the first government supported efforts in  bringing dance and the other arts in to the schools. As the recipient of six Fulbright Fellowships, she has worked in Belgium, The Netherlands, Portugal, Germany, Australia. She currently teaches on-line for the National Dance Education Organization.